"UNDERGROUND UPRISING", THE MAKING OF A REVOLUTIONARY MUSIC
Bestman Michael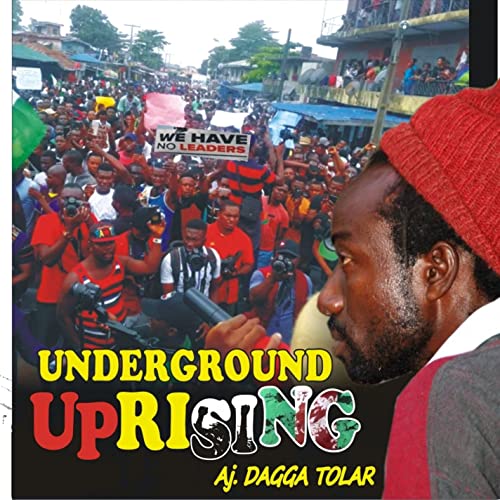 What do you do when you get fed up with the crises created by a profit-oriented system built on exploitation and oppression? Aj Dagga Tolar's much-anticipated album, "Underground Uprising", answers that: "Rise", "Organise", and "Fight" such system.
It is reggae music, spiced with experimentation with Afro Jazz beat, featuring notable artistes like Papa English, Pupa Sonny, and Empress Marimba. Since its release in April, the album has taken a rather timeless form; both lyrically, socially, and politically. This time, with a tracklist of songs that are provocative, eye-opening and revolutionary.
The 15-track album is a medley of reflections built against the background of capitalist attacks, ranging from rising rape cases, racism, the Covid-9 pandemic, fuel and electricity tariff hike, the #ENDSARS protest, high cost of living, to the several degenerating conditions that have rendered the working class agonised by few capitalist oligarchies.
From such a standpoint, a revolutionary album like the "Underground Uprising" becomes relevant with its socially relevant thematic materials. And each song becomes a mirror and guide placing every subject matter it raises into simple and illustrative Marxist perspectives. A rare trend one can likely substitute with conscious rappers like Immortal Technique, 2Pac, Noname, and JID, or like Afro Jazz singer like Fela, and Reggae artists as Bob Marley, Peter Tosh, the Wailers etc.
As a poet and revolutionary, Dagga Tolar's album succeeds in absorbing its primary audience or listeners (the working class) for the need to rise, organise, and overthrow the capitalist system. With an unusually heavy beat introducing the first song in the tracklist, Kilosele, and down to an edifying end, more spoken than instrumental, the impact of each song cannot be politically and historically overstated.
Every unit of rhythm, tempo, and harmony, are relatively defined. In this sense, providing a tonal background to how the subject matter of the songs are addressed or should be perceived by the audience, who in turn, needs patience with a level of open-mindedness to the messages, allusions, and imageries created progressively within the duration of the different tracks.
For instance, a track titled, "Philosophy of Fallacy", which is the only song in two versions, address in simple terms what Karl Marx rightly states as "every ruling idea is a product of the ruling class". Yet, they "teach us"(the working people), as the song repeats in intervals, about the doctrines of what favours them as the ruling class. From the song, we are introduced to ideas and philosophies antithetically structured that, in a way, have existed only to become a fabric of falsification to what is or become a perceived reality. At no time did the educational system teach the people, "the suffering people the history and philosophy of resistance" and how a revolution can be accomplished and capitalism overthrown.
Yet, the title of the album, itself, metaphorically suggests the coming of a revolutionary movement of the people that re-echoes through lyrics as "Look we dey look dem", "Mek-e-sele", "Coming we dey come for you", and so on. The mastery of language is undeniably creative and musically raw like what Gabriel Okara in PIANO AND DRUMS describes as a "mystic rhythm, urgent, raw like bleeding flesh", where the blend of Yoruba, Pidgin and the English language invariably creates an aural and visual impact.
Hence, the choice of cover design for the album is intentional and graphically explicit. A dedication to victims "shot and murdered by the country". Yet, the design not only tells. It also shows the need for an organised struggle and movement altogether. A glimpse into class consciousness and struggles over the decades; especially with the historical and material existence of what has formed and equally destroyed a country as Nigeria since its independence: "a rebirth of crises and a reshuffling of a handful of wolves in similar differentiation".
In this light, this becomes the fulcrum that connects conscious music and album as Dagga's in solidarity and calls for a united struggle of the working class against this capitalist ridden system. And directly, it has further simplified the need for a revolution of the working class and an organised movement for scientific socialism in musical and linguistics terms, where the means of production will be democratically managed and controlled by the workers themselves. Or, to borrow from one of the songs, rhetorically, "Shey ka ma wo won?," which means, "Do we continue to watch them?" And there is no right time than now to break free of our indifference to the capitalist exploitation and ruination of the common people. Please do not fail to go get your copy or better still stream or download from any of the online platforms.
SPOTIFY: https://open.spotify.com/album/3rmIi9u2DBe4aC4IWhOH0V
SOUNDCLOUD: https://soundcloud.com/dagga-tolar/sets/underground-uprising
AUDIOUMACK: https://audiomack.com/bedagga/album/underground-uprising